CHAGALL, PICASSO LURE RUSSIAN BUYERS TO $1.6 BILLION ART FAIR
Bloomberg.com, 27 мая 2007 года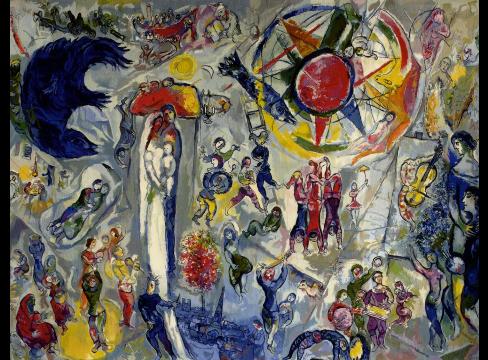 May 28 (Bloomberg) — A Marc Chagall tapestry and Picasso ceramics are among 6,000 works expected to lure Moscow's burgeoning number of millionaires to the Russian capital's biggest art fair, which opens to the public today.
International and Russian dealers have 1 billion euros ($1.6 billion) of art on offer at the Moscow World Fine Art Fair as they hope to profit from the new elite's growing appetite for art.
The Russian economy has grown every year since 1999, in large part driven by the export of natural resources such as oil and natural gas. A class of wealthy people has appeared, many of whom grew up in the deprivation of the Soviet Union, and they are eager to acquire fine art and luxury items.
"More Russian buyers are getting into the art market, and the wealthiest among them want the top end, especially European art," said Alexander Lachmann, a Russian emigre dealer and collector from Cologne, Germany. "They tend to buy art for decorative purposes, and also seek brand-name recognition to score status points."
About 60 galleries are attending the fair organized by Geneva-based Art Culture Studio. While almost half deal in 20th- century and contemporary art, others offer Old Master paintings, 18th-century furniture, silver, porcelain, sculpture, and Asian art. Another 500 million euros of jewelry is also on sale by 18 vendors, such as Harry Winston, Moussaieff, and Bulgari, said Sixtine Crutchfield, the fair's general manager.
Leger, Magritte
New York-based Jane Kahan Gallery offers nine tapestries, including three by Russian-born Chagall, one by French cubist Ferdnand Leger, and one by Belgian surrealist Rene Magritte.
Chagall's 16-foot (4.75-meter) "La Vie" is a tapestry made in 1989 with permission of the Chagall family. It recreates the artist's 1964 painting of the same name. It's expected to sell for between 2 million euros and 3 million euros, said Charles Mathes, the gallery's director.
The gallery also offers nine Picasso and two Chagall ceramics, most of which are unique works. One Picasso ceramic is on offer for "less than 500,000 euros," said Mathes.
"We've brought art with strong appeal to the Russian market," said Jane Kahan, owner of the Jane Kahan Gallery. "We plan to make new connections in Moscow, personal as well as financial. Russian collectors seem to have an emotional intensity and a sincere love of art."
Renoir, Degas
Moscow-based Shkola Gallery, half-owned by the Chowaiki Mosionzhnik Gallery of New York, offers Renoir's 1910 oil-on- canvas work "Paysage de Provence, Cagnes," Egon Schiele's 1911 gouache-and-watercolor on paper "Halbakt (Semi-Nude)" and Edgar Degas's 1902 pastel and charcoal, "Etude de Nu Pour une Danseuse." The gallery refused to give the prices, saying they would only be given to serious buyers on request.
Shkola opened in early 2007. The gallery said it has several dozen clients, some of whom pay between $1 million and $15 million for artworks.
"The key to success in the Russian market is finding a common language with potential Russian buyers, and the issue here is mostly about developing trust," said Lachmann. "Many Russians are new to the art market, and they're still learning how it works, and still trying to figure out who they can trust."
The Moscow-based Maricevic Gallery, owned by a Serbian family, will hold the first exhibition by Russian realist painter Stepan Kolesnikov in Russia since 1916. Kolesnikov is best known for landscapes that feature Russian winter scenes and Orthodox churches. After the 1917 Revolution, Kolesnikov fled Russia and in 1920 he settled in Belgrade, the Serbian capital.
Over the past six years, Maricevic has brought more than 200 of Kolesnikov's works from Serbia for sale in Russia. At the Moscow fair, Kolesnikov's "Saint Nicholas Day" is on offer for 40,000 euros, and "Summer Landscape" is offered at 65,000 euros.
The Moscow World Fine Art Fair runs through June 2 at the Manege, 1 Manezhnaya Square, Moscow. It is open to the public from 2 p.m. to 6 p.m. each day, with VIP hours 7 p.m. to 9 p.m.
John Varoli