SOTHEBY'S SELLS $53 MILLION OF RUSSIAN ART AS COLLECTORS JOUST
Bloomberg.com, 27 ноября 2007 года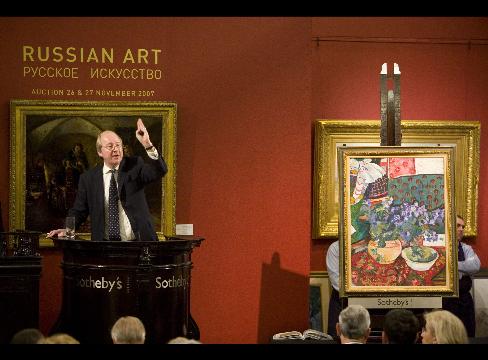 Nov. 27 (Bloomberg) -- Sotheby's inaugural evening sale of Russian art in London yesterday totaled 25.7 million pounds ($53.3 million), including commissions, as wealthy collectors fought each other to buy works of their heritage.
The total pre-sale estimate, which excludes commission, was 16 million pounds to 23.5 million pounds. Nine of the top 10 lots were modern works, led by Natalia Goncharova, Liubov Popova and Nikolai Roerich. Most art came from private American and European collections and 91 percent of buyers were Russians, Sotheby's said.
The Russian economy has been growing since 1999. Russian art prices have increased as much as 10-fold since 2000 as wealthy Russians buy art to decorate homes and build collections.
``This sale was historic,'' said Jo Vickery, head of Sotheby's Russian art department in London, immediately after the auction. ``It shows the Russian art market has come of age and has reached the level of other major art markets,''
Sotheby's has three Russian art sales a year. Total annual results have risen more than 20-fold since 2001, reaching $153.5 million in 2006, which was 46 percent over 2005's total. Russia has about 120,000 U.S. dollar millionaires, a figure that grows annually by 15 percent, said Deutsche Bank AG.
About 70 percent of lots from last night's sale went over top estimate, and 18 paintings sold for above $1 million. Twelve of the 55 lots went unsold. Buyers on the phones carried the evening, a sign that collectors were active, as opposed to the Moscow art dealers who packed the sales room.
``Many prices were high, what we say are end-client prices,'' said Ana Maricevic, a partner at Maricevic Fine Art in Moscow. ``This sale wasn't at a level interesting to dealers.''
Bright Bluebells
The top lot was Goncharova's `` Bluebells'' (circa 1909), which sold for 3 million pounds, just at its low estimate. This work came from the Schreiber Collection in New York and is a brightly colored floral still life inspired by Matisse's Fauvism.
Popova's ``Still Life With Tray'' (1915), a cubist mixed media and collage on canvas came from an American collection and sold for 1.7 million pounds on an estimate of 1.5 million pounds to 2 million pounds. This was a record for the artist at auction.
Roerich's 1922 work ``Himself Came'' was the night's biggest surprise, selling to a phone bidder for 1.76 million pounds, more than 12 times its top estimate, and a record for the artist at auction. The canvas, which came from an American collection, has a mystical Christian Orthodox theme.
Chinese Battle
Alexander Yakovlev's ``The Battle of the Warriors'' (1918), sold for 916,000 pounds, almost twice its top estimate. The work was painted in Beijing and depicts actors in ornate Chinese battle costumes fighting in a theater performance.
There were some losers. A Faberge gold and lilac enamel clock (1899-1904) failed to sell on a low estimate of 180,000 pounds. Five of the nine lots in the Schreiber Collection didn't sell, such as Mikhail Larionov's ``Rayonist Dancer'' (1915), with a low estimate of 600,000 pounds.
``If the estimates on the Schreiber Collection had been lower, then bidders might have jumped in and they'd still get a great price,'' said Andrei Ruzhnikov, a partner at Aurora Fine Art Investments, a fund owned by oil billionaire Viktor Vekselberg. ``But some consignors get greedy and push for very high estimates.''
Ruzhnikov said he only bought a ``few things'' at the sale because he prefers to buy directly from owners because prices have become ``too high'' at auctions.
John Varoli