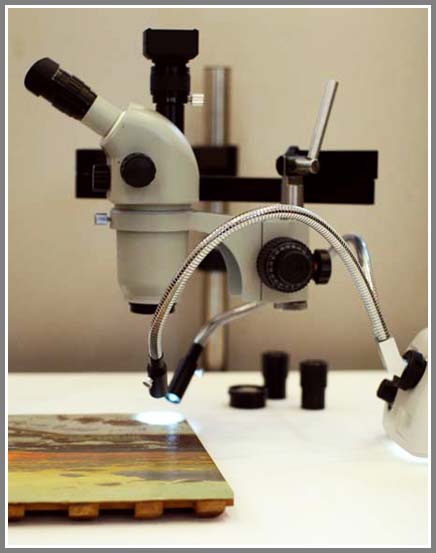 A unique tool has been added to the research equipment at the gallery this month - a trinocular microscope with a set of additional optics which covers a wide range of magnification necessary to study the different layers of oil paintings' surface. The equipment has been custom made by the Saint Petersburg based firm Altami according to precise specifications in order to meet our research objectives and requirements.
As a result we are now able to examine the features of different pigment and varnish layers of paintings and their ageing characteristics (craquelure) in minute detail. We hope that this will further advance our efforts to positively authenticate works of art in the future. In addition, a digital photographic matrix makes it possible to record our observations, and save them for further reference.

27.03.2016:
anniversary XL Russian Antique Salon in the Central House of Artists

24.09.2015:
"Investments in paintings" article, «Top Flight» magazine (September, 2015),

27.02.2014:
Mirjana Maricevic about Russian realism

29.11.2013:
VII Moscow World Fine Art Fair (MWFAF)

18.10.2013:
The 35th Russian Antique Salon

13.09.2013:
Major work of Russian Orientalism at the gallery

30.05.2013:
Maricevic Fine Art is certified by the Appraisers' Guild to provide art valuation services for purposes of insurance and bank loans

11.03.2013:
Seascape by Alexei Hanzen

26.12.2012:
Happy New Year

12.11.2012:
Personal exhibition of Petr Ossovsky

01.08.2012:
Coverage of the exhibitionon the TV channel "Kultura"

26.07.2012:
Images of the opening of the exhibition

25.06.2012:
The exhibition "Realism in Russian art of the second half of the twentieth century"

04.04.2012:
We invite you to visit the exhibition of works by Gely Korzhev at our gallery

21.02.2012:
Korzhev exhibition

31.01.2012:
BOND Magazine. Autumn 2011

01.01.2012:
Happy new year!

04.10.2011:
Two major works by Stepan Kolesnikov

20.03.2011:
A unique tool has been added to the research equipment at the gallery

01.03.2011:
"Collector" art fair

03.02.2011:
135th anniversary of Aleksey Hanzen"s birth

31.12.2010:
Happy new year!

30.11.2010:
"Collector" art and antiques fair in Saint

11.10.2010:
The XXIXth Russian Antique Fair

16.09.2010:
Interview with Ana Maricevic on RBC-TV

18.02.2010:
XXVIII Russian Antique Salon

08.07.2009:
The meeting of CINOA"s members

05.07.2009:
Tradition and modernity

06.05.2009:
New address

24.02.2009:
XXVI Russian Antique Salon

18.02.2009:
Dissertation

16.10.2008:
XXV Russian Antique Fair

08.06.2008:
Dance Club Awards

02.06.2008:
The Moscow World Fine Art Fair

20.04.2008:
The XXIV Russian Antique Salon

28.05.2007:
The Moscow World Fine Art Fair

07.12.2006:
Art Investment

29.08.2006:
Documentary

29.05.2006:
3rd Moscow World Fine Art Fair