XXVI Russian Antique Salon in the Central House of Artists in Moscow opens its doors earlier than usual this year on February 28, the last day of winter. This season the stand of our gallery is located in the central exhibition area on the first floor. Maricevic Fine Art traditionally presents works by artists who belong to the so-called first wave of Russian emigration; among them are such names as Nikolai Fechin, Philip Malyavin, Alexander Yakovlev and Alexei Issupoff.
Artistic heritage of the Russian émigré painters has been the subject of research at our gallery for many years. Thus, we are glad to announce that Sonja Maricevic has recently defended a PhD thesis dedicated to the creative legacy of Stepan Kolesnikoff in the context of the Russian emigration in the Balkans at the Stroganov University in Moscow. Works by Stepan Kolesnikoff, as well as paintings by his contemporary and friend Alexei Hanzen, will be displayed among the other remarkable works in our exposition. This year we also present several paintings by outstanding foreign masters such as Svetozar Jovanovitch, Peder Monsted and Heinrich Hermanns.
We hope to see you from February 28 until March 8 at our stand number 8-11.
We hope you will enjoy the gallery exposition.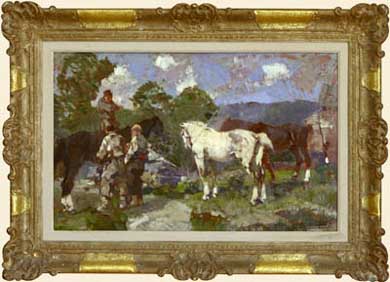 27.03.2016:
anniversary XL Russian Antique Salon in the Central House of Artists

24.09.2015:
"Investments in paintings" article, «Top Flight» magazine (September, 2015),

27.02.2014:
Mirjana Maricevic about Russian realism

29.11.2013:
VII Moscow World Fine Art Fair (MWFAF)

18.10.2013:
The 35th Russian Antique Salon

13.09.2013:
Major work of Russian Orientalism at the gallery

30.05.2013:
Maricevic Fine Art is certified by the Appraisers' Guild to provide art valuation services for purposes of insurance and bank loans

11.03.2013:
Seascape by Alexei Hanzen

26.12.2012:
Happy New Year

12.11.2012:
Personal exhibition of Petr Ossovsky

01.08.2012:
Coverage of the exhibitionon the TV channel "Kultura"

26.07.2012:
Images of the opening of the exhibition

25.06.2012:
The exhibition "Realism in Russian art of the second half of the twentieth century"

04.04.2012:
We invite you to visit the exhibition of works by Gely Korzhev at our gallery

21.02.2012:
Korzhev exhibition

31.01.2012:
BOND Magazine. Autumn 2011

01.01.2012:
Happy new year!

04.10.2011:
Two major works by Stepan Kolesnikov

20.03.2011:
A unique tool has been added to the research equipment at the gallery

01.03.2011:
"Collector" art fair

03.02.2011:
135th anniversary of Aleksey Hanzen"s birth

31.12.2010:
Happy new year!

30.11.2010:
"Collector" art and antiques fair in Saint

11.10.2010:
The XXIXth Russian Antique Fair

16.09.2010:
Interview with Ana Maricevic on RBC-TV

18.02.2010:
XXVIII Russian Antique Salon

08.07.2009:
The meeting of CINOA"s members

05.07.2009:
Tradition and modernity

06.05.2009:
New address

24.02.2009:
XXVI Russian Antique Salon

18.02.2009:
Dissertation

16.10.2008:
XXV Russian Antique Fair

08.06.2008:
Dance Club Awards

02.06.2008:
The Moscow World Fine Art Fair

20.04.2008:
The XXIV Russian Antique Salon

28.05.2007:
The Moscow World Fine Art Fair

07.12.2006:
Art Investment

29.08.2006:
Documentary

29.05.2006:
3rd Moscow World Fine Art Fair