Gely Korzhev in the documentary
"Contemporaries" produced by our gallery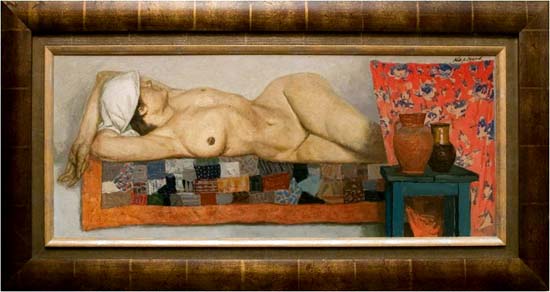 In April our gallery will be hosting an exhibition of works by Gely Korzhev, one of Russia's greatest living artists. The show will include several dozen works from private collections, most of which have never been shown to the public before.

Korzhev (born in 1925) is best known as one of the founders of the Severe Style movement, which contrasted from the more detailed Realist approach of the 1940s and '50s in its minimal and chiseled execution. However, this is an honor that neither he nor Victor Ivanov, another widely accepted father of the movement have accepted, crediting it to an earlier generation of Soviet artist such as Deineka and Petrov-Vodkin.

Each of Korzhev's canvasses is a truly profound and independent work of art, whether it is on the subject of the Second World War ("the theme of my generation"), an acute social commentary (the "Tyurliki" or monsters series for example – a reaction to the tumultuous early 90s in Russia), biblical themes or one of his stark and beautiful still lives.

He is a man of a complex many-faceted character: he has the clear mind of the philosophers of the past. Tall and bearded he has a likeness to Socrates. He is almost too imposing to speak with." say his friends, artists Sergey and Alexey Tkachev.

The work of Gely Korzhev has an important place in the collections of Russian museums (the Tretyakov Gallery in Moscow and the Russian Museum in Saint Petersburg for example), although the artist has refused retrospective exhibitions there in the past 20 years. He also did not accept two awards in the post-perestroika era, calling himself "an artist of Socialist Realism".

Korzhev has achieved high international acclaim featuring among others in the 2005 Guggenheim exhibition "RUSSIA!" and having a retrospective exhibition at The Museum of Russian Art in Minneapolis in 2008.

27.03.2016:
anniversary XL Russian Antique Salon in the Central House of Artists

24.09.2015:
"Investments in paintings" article, «Top Flight» magazine (September, 2015),

27.02.2014:
Mirjana Maricevic about Russian realism

29.11.2013:
VII Moscow World Fine Art Fair (MWFAF)

18.10.2013:
The 35th Russian Antique Salon

13.09.2013:
Major work of Russian Orientalism at the gallery

30.05.2013:
Maricevic Fine Art is certified by the Appraisers' Guild to provide art valuation services for purposes of insurance and bank loans

11.03.2013:
Seascape by Alexei Hanzen

26.12.2012:
Happy New Year

12.11.2012:
Personal exhibition of Petr Ossovsky

01.08.2012:
Coverage of the exhibitionon the TV channel "Kultura"

26.07.2012:
Images of the opening of the exhibition

25.06.2012:
The exhibition "Realism in Russian art of the second half of the twentieth century"

04.04.2012:
We invite you to visit the exhibition of works by Gely Korzhev at our gallery

21.02.2012:
Korzhev exhibition

31.01.2012:
BOND Magazine. Autumn 2011

01.01.2012:
Happy new year!

04.10.2011:
Two major works by Stepan Kolesnikov

20.03.2011:
A unique tool has been added to the research equipment at the gallery

01.03.2011:
"Collector" art fair

03.02.2011:
135th anniversary of Aleksey Hanzen"s birth

31.12.2010:
Happy new year!

30.11.2010:
"Collector" art and antiques fair in Saint

11.10.2010:
The XXIXth Russian Antique Fair

16.09.2010:
Interview with Ana Maricevic on RBC-TV

18.02.2010:
XXVIII Russian Antique Salon

08.07.2009:
The meeting of CINOA"s members

05.07.2009:
Tradition and modernity

06.05.2009:
New address

24.02.2009:
XXVI Russian Antique Salon

18.02.2009:
Dissertation

16.10.2008:
XXV Russian Antique Fair

08.06.2008:
Dance Club Awards

02.06.2008:
The Moscow World Fine Art Fair

20.04.2008:
The XXIV Russian Antique Salon

28.05.2007:
The Moscow World Fine Art Fair

07.12.2006:
Art Investment

29.08.2006:
Documentary

29.05.2006:
3rd Moscow World Fine Art Fair